TalkQuintagroup is a place to engage with us on topics important to you concerning the information technology industry. Read blogs from Quintagroup employees, customers, and analysts, visit our forums and let us know what you think. The topics are broad and relevant, including Zope and Plone hosting, Zope and Plone development, Plone skins, web design and content management solutions.
Recently it was announced of the first release of a free Plone theme, designed and developed by Quintagroup: Python Reel, your Free Responsive theme for Plone 4.2.x  that holds a great promise to become even more popular than well-loved Schools and SunRain, all-time favourites among Free Plone Themes.
Let's see, if those expectations can actually live up to become true in today's mobile-dominated web.
Visual Design
At first glance design-wise Python Reel gives off that animalistic vibe that is so in for 2013, presenting the graceful styling inspired by the shape of snake. But,  it's much more softer  take on  a serpent,  with pastel colors and elegant typography Python Reel is suitable for  most business/personal websites.  Still, Python Reel is not so simple and gentle as it may look.
Responsive Web Design
To start off, Python Reel features Responsive Web design to present itself with grace on any device, be it a small smartphone,  a tablet or  widescreen  HD PCs.  Take a look at the website on touch phone, 7-inch tablet, iPad:

As you see, the whole content is resized and repositioned to be more device-appropriate. 2013 is considered to be a year when mobile web usage will finally overtake PC's. It's crucial more than ever to have your website mobile-ready.  Fully responsive Python Reel satisfied all those requirements, coming also with mobile-first navigation and  touch-enabled carousel.
Mobile-first Navigation
Mobile users are often looking for immediate answers; they want the information and they want it now.  Simple responsive navigation won't do, it will just take up an entire mobile screen, without actually showing much.  Python Reel has a native support for quintagroup.dropdownmenu product that transforms multi-level navigation into an elegant responsive drop-down menu, built following mobile first approach.
With a simple responsive menu you get all menu items listed at the top, which is quite messy.  Mobile-first navigation looks as a select box that triggers a pop-up with the complete multi-level navigation menu.
Responsive/Touch-Enabled Carousel
Having a carousel slider on your Plone website is not a big deal, but making it  responsive to smaller devices, meaning tablets and smartphones is a completely different story.   In Python Reel just with a few clicks you can have an elegant image slider that is not only scalable, but can be positioned in the top area or just below the header.
Сompass-powered Theme
Now, let's look under the hood, Python Reel is powered by Compass framework built on top of Sass. So, unlike most Plone Themes this one is coded in another, cleaner fashion. CSS templates are well-structured and reusable, thus making maintenance and deep customization  easier as well.
Top Area as a Focal Point
This is where themes like Python Reel come on stage. Python Reel let's you set your header images with the logo that comes  in a light and dark versions. The theme will allow you to set the colors of your navigation menu, including the text info.  Write your own slogan. Instead of one picture, create a carousel and change its background to match overall color palette on your website. Fortunately, the theme is rather friendly with the user,  changing colors is just a matter of changing its  html number.
With such  a combination of  features,  you can quickly create a good looking home page that looks like it was built by a professional designer.
Layout Flexibility
One of my favourite features in Python Reel is the columns settings. The columns section will allow you to set up to three columns.  You can have your content on the left with a portlet on the right, flip that around, have portlets on both sides, adjust their width or even remove them altogether. ContentWellPortlets extension in turn let you add portlets to any page section header, footer, content.   This way Python Reel theme will display a number of page layouts that allow each page to be individually customized without additional code. This allows for quick creation of multiple page designs within the site.
Social Media
Python Reel would not be mobile enough without social media to share the content and connect with your visitors on Facebook, Twitter, Linkedin; keep them up-to-date with the latest news in RSS.
Try it out
After spending several hours playing with Python Reel on plone-demo, I can say it is a pretty solid theme. Seeing Python Reel only on pics doesn't really do it justice though. You'll need to switch on your imagination. There is little to nothing you couldn't customize in this theme with proper tools and knowledge. So you need to try out this theme for yourself and get a real feel of what Python Reel has to offer, how easy it's to personalize and how great and versatile it can look.
Support
Lastly, let's cover support.  All Plone themes are not made equal.  Some, like Python Reel, are flexible and can be used for virtually any purpose. This is great, but sometimes the options can be overwhelming. As for Python Reel all customization instructions are provided in README.txt. But if there are some things you don't fully understand or have trouble with, you can always open the ticket.  Downloading for free Python Reel you get a solid product that will continue to receive updates as well as support into the future.
Get Your Plone Theme
Overall, I really like Python Reel  and think this Plone theme can fit most business fields really well.  It's easy to set up and customize,  plus it responds to your viewer's device. Python Reel gives you plenty of options, but at the same time, not enough to overwhelm you. What I love most about this Plone theme in particular is how flexible it is.  It can be used for websites ranging from single-column to 3 column responsive sites.   This theme could be your ticket to mobile market.
You can download Python Reel from:
Homepage: http://themes.quintagroup.com/product/python-reel
Plone.org: http://plone.org/products/python-reel-plone-theme
Pypi: http://pypi.python.org/pypi/quintagroup.theme.pythonreel
Wishing you every Joy and a Happy New Year!
Dear Clients,
Quintagroup will be performing a scheduled software maintenance on all Quintagroup servers due to security vulnerability in Plone. Service interruptions are expected to be brief and will likely go unnoticed, but you may experience some minor ones.
When: November 6th, 2012
Time: 15:00-16:00 UTC (see in your timezone)
Expected Impact: Website availability varies
Recommendations: Suspend advertising programs during this window, disable notifications from website monitoring systems
Security advisory: http://plone.org/products/plone/security/advisories/20121106-announcement
All updates will be posted here.
Thank you for your patience.
Quintagroup team
UPDATE 15:08 UTC: We'd received and validated PloneHotfix20121106-1.0.zip. Hotfix rollout procedure started.
UPDATE 16:00 UTC: We're extending maintenance window for other 30 minutes till 16:30 UTC. The delay was caused by necessity to update our Hotfix rollout procedure. This hotfix has a bit different pattern then the ones that we'd installed previously that made our rollout procedure have false negatives (i.e. it marked instance as not patched after patching it properly.
UPDATE 16:38 UTC: We'd finished the Hotfix rollout. There are some instances that require further ispection. For instance Hotfix fails on Plone 2.5.2 instances and Plone 2.0, 2.1 instances does not report if hotfix installed properly. We're inspecting these instances on case per case basis now.
UPDATE 17:36 UTC: Plone Security Team released updated version (1.1) of the Hotfix that address FTP issues and couple of other updates. We're starting the 2nd iteration or rollout to restore functionality that Hotfix influenced. The next update should be expected within 45 minutes.
UPDATE 18:34 UTC: New version of Hotfix (1.1) rolled out. If you experience any side-effect, please report at http://go.quintagroup.com/support
UPDATE 11/8: New version of Hotfix (1.2) rolled out. If you experience any side-effect, please report at http://go.quintagroup.com/support
Find out more about the benefits of Quintagroup's recently released free responsive themes for Plone 4.2 - SunRain and Schools!
The tendency towards building user-friendly and facilitating technologies is booming, with new methods and strategies appearing with the speed of light. We want all possible life conveniences to be at our disposal twenty four hours a day seven days a week. Internet is not a happy exception. As well as mobile phones - everyone would anyway admit that these two inventions made our lives much easier. Internet available on your cell phone - another benefit, while responsive view of your website when browsed on a mobile device - the following step towards enhancing the quality of our hasty twenty-first-century lifestyle. With responsive themes you can not only benefit from purely technical aspects of surfing the net from your mobile, but also from the aesthetic and functional ones.
Want to make your website easy to browse on a mobile device and engage more visitors? You are on the right way - not only does Quintagroup suggest responsive Plone themes, but we also can offer two of our responsive themes for free - SunRain and Schools. It means one more benefit on behalf of Quintagroup - there are not so many free responsive Plone themes, while using our design services enables you to download and implement them to your mobile website.
Apart from the usual functionality, design customization and bright palette of colors, you can stop bothering about usability of the mobile version of your website. Responsive themes enable your website to widen the list of visitors by engaging users browsing the net more and more often on their mobile devices.
Responsive approach to our themes is based on CSS3 media queries that help easily switch between different layouts in order to accommodate for different screen sizes. You won't have to wait while your mobile device is 'thinking' over loading your website that was primarily designed for desktop browsing, you won't have to zoom it to see some tiny icons or buttons (because, for example, primarily they were designed for desktop browsing). Responsive themes ensure accessibility of your content and simple mobile-oriented navigation.
So, 'fresh up' your website with responsive Plone themes and make it more appealing to your users.
SunRain Responsive Theme
Functional and interesting design of the free SunRain Plone Theme created by Quintagroup with two different views depending on your taste and needs - Sun and Rain - is now also available for mobile devices. Click on the screenshot to find out more about its key characteristics.
Got interested and want to download? Follow this way:
Schools Responsive Theme
Adaptable and functional free Plone Theme designed by Quintagroup team has now become responsive. Click on the screenshot to find out more about its key characteristics:
Got interested and want to download? Follow this way:
Quintagroup Plone Themes - SunRain and Schools Cases
If you want to see how our SunRain and Schools themes can be implemented in practice, you may browse the following websites and check presently available solutions:
Give It A Try!
You may also go to plone-demo.quintagroup.com and kill two birds with one stone - not only does it give you an opportunity to try working with Plone, but also deal with the themes themselves. Follow the instructions to log in as Plone administartor, then go to the 'ploneadmin' dropdown menu in the right upper corner, choose 'Site Setup' button, find 'Diazo theme' icon under 'Plone Configuration' settings and choose the theme you're interested in. This will help you make up your mind quicker and prompt you to contact us for further details.
Launching new Plone 4.1 Demo site.
Quintagroup has recently launched a new version of our Plone Demo website, where you can see and feel Plone CMS at first hand.
Admin demo account can be used to log in and, thus, get the experience of a true Plone user. You will be able to add content by creating pages, folders, events; move content between site sections; manage workflow for every content item by publishing or making it private; and much more.
Plone Add-ons
Apart from out-of-the-box Plone features, you can try several Plone add-ons in work. These are:
PloneFormGen, a tool for creating/managing online forms
Plone Carousel, a tool for creating image carousel in Plone
collective.embedly, a tool for embedding video, images and other rich media files via providing their URL
ContentWellPortlets, a tool for adding portlets into places other than left and right columns
Plone Drop Down Menu, a tool for creating multi-level navigation menus
Plone SEO, a tool for editing meta tags to enhance search engines visibility of Plone sites
Plone Themes
Plone demo site also has Quintagroup diazo themes for Plone installed. There are 15 themes right now, they are all very different and include a bunch of theme-specific features. You can try any of the installed Plone themes right now by following the instructions on Plone Themes page. Enjoy Plone new look!
Quintagroup is excited to offer 6 free diazo themes to Plone community
After diazo approach introduction to the Plone theming world we decided to restructure all our free themes: now they are  dependent on plone.app.theming package.
The following are feature list for most popular Quintagroup free themes:
SunRain Plone Theme (quintagroup.theme.sunrain)
Two different views: Rain and Sun
Replaceable header image for the whole site and site sections
Subscribe viewlet with 4 editable actions: share on Twitter & Facebook, Send this and Subscribe to RSS
Customizable site slogan on the header area
Blogging support (requires Products.Quills or blog.star product)
Styles for portlet culumus (tag cloud portlet)
2 portlet styles for static stylish portlet: Green Item and Grey Item and special styling for links in such portlets
Schools Plone Theme (quintagroup.theme.schools)
Styles for front page image carousel (works with Products.Carousel)
Replaceable header image for the whole site or site sections
Right top area reserved for the first portlet from the right column
Customizable top area height
Configurable columns width
Editable color of links, links hover, and visited links
WhiteBlack Theme (quintagroup.theme.whiteblack)
Replaceable header image for the whole site or site sections
Configurable columns width
Header area height depend on number of site actions
Global navigation located above the content area between portlet columns
Other Free Plone Themes
There are also TechLight, Lite and EstateLite free diazo Plone themes that are ready-to-be-used on your Plone 4.1 site.
All our themes use Plone 4 logo that is customizable as in default Plone via ZMI portal_skins/sunburst_images/logo.png. Themes' footer is also editable as in default Plone: via portal_view_customizations/plone.footer.
We also included improved thumbnail display view (switch to Thumbnail view for this) for all themes.
All themes were tested with such popular Plone products as: Products.Carousel, Products.ContentWellPortlets, Products.LinguaPlone, and quintagroup.dropdownmenu. We added special styles to make our themes look nice with these products activated.
Theme Installation
Themes can be installed into buildout via adding theme name into eggs section of buildout.cfg file, rerunning the buildout and restarting instance. Then activate theme via Site Setup -> Add-ons and enjoy!
Please, feel free to contact us any time with any feedback or improvement suggestion. Thank you for using our products.
One of our most popular free themes SunRain Plone Theme has recently been upgraded to Plone 4.
SunRain theme is a free theme, initially developed for Plone 3, but now can be activated on Plone 4.0 sites.
Features
The theme includes 2 different views: default 'Rain' and 'Sun' (can be activated via ZMI) - click the following screenshots to see full-screen images.
Additional Portlets
Theme comes with Static Stylish portlet, that allows to add specially-styled text portlets: 'Green Item' and 'Grey Item'. Apart from setting portlet background color, such portlets has portlet text of different size. This allows creating portlets with important information which will easily be noticed by site users. Static Stylish portlets also include special styling for portlet links.
The theme is tested with Portlet Cumulus that allows adding Tag Cloud portlet to Plone site.
Other features
SunRain theme has 'subscribe' viewlet integrated, that adds 4 actions 'Share on Twitter', 'Share on Facebook', 'Send this' and 'Subscribe to RSS'. You can set necessary icon links as simply as editing corresponding portal_action items in ZMI. You are also able to hide/show items that you need.
SunRain Theme uses customizable slogan and replaceable logo.
Want SunRain theme?
You can freely install and customize SunRain Plone Theme on your Plone 4 instance right away. Simply add quintagroup.theme.sunrain to eggs and zcml sections of your buildout.cfg file, rebuild it, restart your Plone site, and activate the theme via Site setup -> Add-ons.
SunRain on TalkQuintagroup
We decided to use SunRain theme on a new version of our corporate blogging site - TalkQuintagroup, that has just migrated from Plone 2.5.1 to Plone 4.0.7. The theme suits perfectly our blogging purposes because it has special blog and blog listing views styled for collective.blogstar and Products.Quills.
We would be very grateful if you inform us about Plone site(s) that use our SunRain Theme, so that we add it to the list of live websites with Quintagroup Plone Themes.
Quintagroup is performing scheduled software maintenance at all Quintagroup servers due to security vulnerability in Plone.
When: June 28th, 2011
Time: 14:30-15:30 UTC (see in your timezone)
Expected Impact: Website is not available
Recommendations: Suspend advertising programs during this window, disable notifications of website monitoring systems
Security advisory: http://plone.org/products/plone/security/advisories/20110622
UPDATE: We have to extend maintenance window for another 30 minutes as Hotfix is being rolled out.
UPDATE (17:01 UTC): Patch rollout finished. Sorry for inconveniences caused.
Meet collective.embedly package that provides TinyMCE visual editor support for embed.ly service in Plone.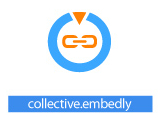 Collective.embedly allows to embed videos, images and other rich media to Plone by simply adding external links that are converted into embeddable content. The approach here is to use the Transform machinery to replace the URL with embed code by calling the embed.ly API.
There are more than 200 services that support embed.ly service. With collective.embedly it becomes very easy to insert content from those websites simply by proving object URL. Embedly-supported serices s include such video sharing sites as Youtube, Blip.tv, Vimeo; such audio streaming services as Grooveshark, SoundCloud, last.fm; such image/photo stocks as Flickr, and many other: GoogleMaps, Facebook, Twitter, etc.
collective.embedly: how to embed media to Plone
To embed media from any of the embedly-supported external resources to Plone - follow such instructions:
Open edit form of the object you want to embed content into. Select some text and choose Embedly link style for it. As a result, the text will now look like linked. You should be careful here since TinyMCE makes the whole passage linked, so keep in mind that the whole passage will later be substituted with embedded media.
Select this text again and go to Insert link dialog to insert the URL to the desired object on the external service.
Save this page. Now when rendered, there will be "preview" from embed.ly service inserted instead of the linked text.
For more illustrative instructions - see collective.embedly documentation. You will find how-tos on embedding videos to Plone from YouTube, blip.tv, vimeo and TED.com websites there. Also see how to embed images from Flickr, how to embed map from GoogleMaps, how to embed audio from SoundCloud, and how to embed content from Facebook to Plone.
Screenshot on the right dislays how can a page with different embedly-converted content look in Plone 4. collective.embedly works in Plone 4.
Give it a try!
collective.embedly is compatible with Plone 4. It is distributed as a Python egg and can easily be installed into your buildout as other packages for Plone.
Visit the following pages to find more information about collective.embedly:
New product that allows to see Plone site statistic information, presented in few content statistic views of Plone content workflow states, ownership and portlets registered on different contexts.
Quintagroup Analytics Tool allows to see Plone site content from different perspectives. Presenting site's statistic information in different statistic views, quintagroup.analytics allows to visually audit Plone content.
Information generated by Quintagroup Analytics can be very useful while migrating your site into newer Plone version. With its help you can audit the content in Plone site before migration and compare it with the migrated website structure.
quintagroup.analytics is now compatible with Plone 4 and Plone 3. But we plan to test it on Plone 2.5 and Plone 2.1 soon: you may expect a new product release for earlier Plone versions in the nearest future.
How to Use
You can install quintagroup.analytics on your Plone 4 or Plone 3 instance by adding quintagroup.analytics to the buildout (see detailed installation instructions). Having activated Quintagroup Analytics via QuickInstaller in Plone you will see a new Quintagroup Analytics item appeared under Add-on Products Configuarion.
Quintagroup Analytics configlet consists of several tabs that present different statistics about your Plone site. Every chart is followed by a table, presenting all statistic data in numbers:
So, what statistics can you have by using Quintagroup Analytics?
Content Ownership by Type - information about most popular content types on your Plone site. Here you can see the most frequently created content types on your site and their owners.
Content Ownership by State - information about your site's content workflow states. Here you can see how many content object are published/submitted for review/etc. and their owners.
Content Types by State - information about your site's most frequently created content types and their workflow states.
Site Portlets and Legacy Portlets - information about site portlets (legacy portlets) assigned throughout site sections. This information can be exported into .csv format. Apart from having all site portlets listed in one place, you can immediately edit them.
Properties Stats - information on certain property values for all site objects, such as titles, descriptions, etc. This information can be exported into .csv format.
Try it!
Visit the following pages to find more information about quintagroup.analytics features, usage and installation: