TalkQuintagroup is a place to engage with us on topics important to you concerning the information technology industry. Read blogs from Quintagroup employees, customers, and analysts, visit our forums and let us know what you think. The topics are broad and relevant, including Zope and Plone hosting, Zope and Plone development, Plone skins, web design and content management solutions.
Launching new Plone 4.1 Demo site.
Quintagroup has recently launched a new version of our Plone Demo website, where you can see and feel Plone CMS at first hand.
Admin demo account can be used to log in and, thus, get the experience of a true Plone user. You will be able to add content by creating pages, folders, events; move content between site sections; manage workflow for every content item by publishing or making it private; and much more.
Plone Add-ons
Apart from out-of-the-box Plone features, you can try several Plone add-ons in work. These are:
PloneFormGen, a tool for creating/managing online forms
Plone Carousel, a tool for creating image carousel in Plone
collective.embedly, a tool for embedding video, images and other rich media files via providing their URL
ContentWellPortlets, a tool for adding portlets into places other than left and right columns
Plone Drop Down Menu, a tool for creating multi-level navigation menus
Plone SEO, a tool for editing meta tags to enhance search engines visibility of Plone sites
Plone Themes
Plone demo site also has Quintagroup diazo themes for Plone installed. There are 15 themes right now, they are all very different and include a bunch of theme-specific features. You can try any of the installed Plone themes right now by following the instructions on Plone Themes page. Enjoy Plone new look!
One of our most popular free themes SunRain Plone Theme has recently been upgraded to Plone 4.
SunRain theme is a free theme, initially developed for Plone 3, but now can be activated on Plone 4.0 sites.
Features
The theme includes 2 different views: default 'Rain' and 'Sun' (can be activated via ZMI) - click the following screenshots to see full-screen images.
Additional Portlets
Theme comes with Static Stylish portlet, that allows to add specially-styled text portlets: 'Green Item' and 'Grey Item'. Apart from setting portlet background color, such portlets has portlet text of different size. This allows creating portlets with important information which will easily be noticed by site users. Static Stylish portlets also include special styling for portlet links.
The theme is tested with Portlet Cumulus that allows adding Tag Cloud portlet to Plone site.
Other features
SunRain theme has 'subscribe' viewlet integrated, that adds 4 actions 'Share on Twitter', 'Share on Facebook', 'Send this' and 'Subscribe to RSS'. You can set necessary icon links as simply as editing corresponding portal_action items in ZMI. You are also able to hide/show items that you need.
SunRain Theme uses customizable slogan and replaceable logo.
Want SunRain theme?
You can freely install and customize SunRain Plone Theme on your Plone 4 instance right away. Simply add quintagroup.theme.sunrain to eggs and zcml sections of your buildout.cfg file, rebuild it, restart your Plone site, and activate the theme via Site setup -> Add-ons.
SunRain on TalkQuintagroup
We decided to use SunRain theme on a new version of our corporate blogging site - TalkQuintagroup, that has just migrated from Plone 2.5.1 to Plone 4.0.7. The theme suits perfectly our blogging purposes because it has special blog and blog listing views styled for collective.blogstar and Products.Quills.
We would be very grateful if you inform us about Plone site(s) that use our SunRain Theme, so that we add it to the list of live websites with Quintagroup Plone Themes.
Quintagroup is performing scheduled software maintenance at all Quintagroup servers due to security vulnerability in Plone.
When: June 28th, 2011
Time: 14:30-15:30 UTC (see in your timezone)
Expected Impact: Website is not available
Recommendations: Suspend advertising programs during this window, disable notifications of website monitoring systems
Security advisory: http://plone.org/products/plone/security/advisories/20110622
UPDATE: We have to extend maintenance window for another 30 minutes as Hotfix is being rolled out.
UPDATE (17:01 UTC): Patch rollout finished. Sorry for inconveniences caused.
Meet collective.embedly package that provides TinyMCE visual editor support for embed.ly service in Plone.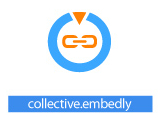 Collective.embedly allows to embed videos, images and other rich media to Plone by simply adding external links that are converted into embeddable content. The approach here is to use the Transform machinery to replace the URL with embed code by calling the embed.ly API.
There are more than 200 services that support embed.ly service. With collective.embedly it becomes very easy to insert content from those websites simply by proving object URL. Embedly-supported serices s include such video sharing sites as Youtube, Blip.tv, Vimeo; such audio streaming services as Grooveshark, SoundCloud, last.fm; such image/photo stocks as Flickr, and many other: GoogleMaps, Facebook, Twitter, etc.
collective.embedly: how to embed media to Plone
To embed media from any of the embedly-supported external resources to Plone - follow such instructions:
Open edit form of the object you want to embed content into. Select some text and choose Embedly link style for it. As a result, the text will now look like linked. You should be careful here since TinyMCE makes the whole passage linked, so keep in mind that the whole passage will later be substituted with embedded media.
Select this text again and go to Insert link dialog to insert the URL to the desired object on the external service.
Save this page. Now when rendered, there will be "preview" from embed.ly service inserted instead of the linked text.
For more illustrative instructions - see collective.embedly documentation. You will find how-tos on embedding videos to Plone from YouTube, blip.tv, vimeo and TED.com websites there. Also see how to embed images from Flickr, how to embed map from GoogleMaps, how to embed audio from SoundCloud, and how to embed content from Facebook to Plone.
Screenshot on the right dislays how can a page with different embedly-converted content look in Plone 4. collective.embedly works in Plone 4.
Give it a try!
collective.embedly is compatible with Plone 4. It is distributed as a Python egg and can easily be installed into your buildout as other packages for Plone.
Visit the following pages to find more information about collective.embedly:
New product that allows to see Plone site statistic information, presented in few content statistic views of Plone content workflow states, ownership and portlets registered on different contexts.
Quintagroup Analytics Tool allows to see Plone site content from different perspectives. Presenting site's statistic information in different statistic views, quintagroup.analytics allows to visually audit Plone content.
Information generated by Quintagroup Analytics can be very useful while migrating your site into newer Plone version. With its help you can audit the content in Plone site before migration and compare it with the migrated website structure.
quintagroup.analytics is now compatible with Plone 4 and Plone 3. But we plan to test it on Plone 2.5 and Plone 2.1 soon: you may expect a new product release for earlier Plone versions in the nearest future.
How to Use
You can install quintagroup.analytics on your Plone 4 or Plone 3 instance by adding quintagroup.analytics to the buildout (see detailed installation instructions). Having activated Quintagroup Analytics via QuickInstaller in Plone you will see a new Quintagroup Analytics item appeared under Add-on Products Configuarion.
Quintagroup Analytics configlet consists of several tabs that present different statistics about your Plone site. Every chart is followed by a table, presenting all statistic data in numbers:
So, what statistics can you have by using Quintagroup Analytics?
Content Ownership by Type - information about most popular content types on your Plone site. Here you can see the most frequently created content types on your site and their owners.
Content Ownership by State - information about your site's content workflow states. Here you can see how many content object are published/submitted for review/etc. and their owners.
Content Types by State - information about your site's most frequently created content types and their workflow states.
Site Portlets and Legacy Portlets - information about site portlets (legacy portlets) assigned throughout site sections. This information can be exported into .csv format. Apart from having all site portlets listed in one place, you can immediately edit them.
Properties Stats - information on certain property values for all site objects, such as titles, descriptions, etc. This information can be exported into .csv format.
Try it!
Visit the following pages to find more information about quintagroup.analytics features, usage and installation:
New quintagroup.dropdownmenu package from Quintagroup allows building multilevel drop-down menus on Plone 4 sites.
Quintagroup is pleased to announce a new quintagroup.dropdownmenu add-on for building drop-down menus on Plone sites. With quintagroup.dropdownmenu your Plone navigation tabs can become multilevel menu items.
quintagroup.dropdownmenu is a successor of qPloneDropDownMenu product, but we took different concept of creating menus as a basis for our new package. Starting from Plone 3, when portal_actions introduced CMF Action Category containers, an opportunity to build nested actions trees was opened.
While developing our new product we decided to use that portal_actions feature. Thus, quintagroup.dropdownmenu builds drop-down menu through the web from a tree of nested Category Actions and Actions within portal_actions tool. Since CMF Action Category does not behave as a regular action and it has different set of properties, we introduced convention in quintagroup.dropdownmenu that requires to have a specially named Action for each Actions Category.
Features
Apart from building drop-down menu on the basis of portal_action items, quintagroup.dropdownmenu allows to generate it on the basis of site structure. This is governed by settings in the Drop Down Menu configlet. There you can also define whether:
Turn on/off tabs icons display. If you enable this feature your drop-down menu will have the following look:

Turn on/off non-folderish objects display - here you can specify whether to display non-folderish menu items (such as pages, images, files, etc.) or not;
Turn on/off navigation & portal_actions strategy - here you can specify if drop-down menu will be built on the basis of Plone site structure, on portal_action items, or on both;
Drop-down menu depth - here you can specify how many levels folders to list after the top level.
Give it a try
quintagroup.dropdownmenu is compatible with Plone 4 and Plone 3. It is distributed as a Python egg and can easily be installed into your buildout as other packages for Plone.
Visit the following pages to find more information about quintagroup.dropdownmenu features, usage and installation:
This screencast is about quintagroup.plonegooglesitemaps product for Plone. It covers such topics as Plone Google Sitemaps package installation on buildout-based instance for Plone 3; creation of content and news Sitemaps, site registration in Google Webmaster Tools area and sitemap submit.
New screencast about quintagroup.plonegooglesitemaps product for Plone. If compared to a Plone Google Sitemaps previous screencast, this new one covers Plone Google Sitemaps package installation on buildout-based instance for Plone 3. Also, apart from explaining creation of Content Sitemap, we added example of creating News Sitemap and showed News Sitemap peculiar features, as well as new configlet added to News Items objects for defining News Item specific features.
In this screencast we also describe how to register Plone site in Google Webmaster Tools area, how to validate it and submit Sitemap.
Helpful links
Video tutorial about free Schools Plone Theme from Quintagroup
In this screencast you will find information about Schools Plone Theme's basic features, installation instructions and main customizations. You will learn how to manage site's carousel banners, how to use additional portlets manager, how to change top area image and logo.
Helpful Links
More screencasts from Quintagroup can be found in the Screencasts section
Overview of the TinyMCE default visual editor in Plone 4. The basic text editing, including image insertion and external link insertion, is shown here as well as the procedure of customizing TinyMCE editor toolbar.
May 2010 was a pretty productive in Quintagroup in terms of updating some of our existing Plone products and launching completely new ones. Here is a short overview of the most important things that were done.
quintagroup.seoptimizer
To begin with I would like to announce that one of our most widely used products - quintagroup.seoptimizer is now upgraded to work with Plone 4. Its 4.0 version doesn't bring any new functionality but allows to use it on Plone 4 - based sites.
quintagroup.plonegooglesitemaps
Another popular product quintagroup.plonegooglesitemaps has gone through a number of updates and its 1.3 version, released on June 01, comes with several new features for New Sitemaps. News Sitemap created by a new 1.3 version of  quintagroup.plonegooglesitemaps is now generated according to the new News Google Sitemaps specifications.
There are some specific meta tags (such as  <n:access>, <n:genres>, <n:stock_tickers>, etc.), required by new Google Sitemaps standard, that are not available in Plone's default NewsItem content type. That is why starting from 1.3 version quintagroup.plonegooglesitemap brings special additional configuration menu to NewsItems for defining NewsSitemap-specific meta tags.
Such additional configuration menu is added only to News Item content type by default quintagroup.plonegooglesitemap settings since News Sitemap is expected to include News Items only. But if needed, this configuration menu can be added to other content types (if you plan to include them into the News Sitemap). See instruction for making this on News Google Sitemaps documentation area.
Please note: Starting from this release to install quintagroup.plonegooglesitempas you will have to to add 'quintagroup.plonegooglesotemaps-overrides' line to your buildout's ZCML area. See detailed Installation Instructions.
Together with quintagroup.plonegooglesitemaps 1.3 version, we released 0.7 version of quintagroup.canonicalpath. So, please consider updating these two packages.
collective.referencedatagridfield
collective.referencedatagridfield - is a completely new package, that is a mix of Reference and DataGrid fields for Plone. It allows to add external sources (as well as internal) as related items to Plone's objects. Custom titles can be set to the related items instead of their real titles. Also it allows to easily change related items order.
The package's aim is to help Plone developers to extend default Plone Reference field functionality or override existing Reference field functionality with a custom one. It does not bring this functionality to the Plone content types, but allows Plone developers to do that simply by following the example content type creation.
More about collective.referencedatagridfield