Embedly Services for Plone
Meet collective.embedly package that provides TinyMCE visual editor support for embed.ly service in Plone.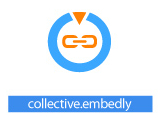 Collective.embedly allows to embed videos, images and other rich media to Plone by simply adding external links that are converted into embeddable content. The approach here is to use the Transform machinery to replace the URL with embed code by calling the embed.ly API.
There are more than 200 services that support embed.ly service. With collective.embedly it becomes very easy to insert content from those websites simply by proving object URL. Embedly-supported serices s include such video sharing sites as Youtube, Blip.tv, Vimeo; such audio streaming services as Grooveshark, SoundCloud, last.fm; such image/photo stocks as Flickr, and many other: GoogleMaps, Facebook, Twitter, etc.
collective.embedly: how to embed media to Plone
To embed media from any of the embedly-supported external resources to Plone - follow such instructions:
Open edit form of the object you want to embed content into. Select some text and choose Embedly link style for it. As a result, the text will now look like linked. You should be careful here since TinyMCE makes the whole passage linked, so keep in mind that the whole passage will later be substituted with embedded media.
Select this text again and go to Insert link dialog to insert the URL to the desired object on the external service.
Save this page. Now when rendered, there will be "preview" from embed.ly service inserted instead of the linked text.
For more illustrative instructions - see collective.embedly documentation. You will find how-tos on embedding videos to Plone from YouTube, blip.tv, vimeo and TED.com websites there. Also see how to embed images from Flickr, how to embed map from GoogleMaps, how to embed audio from SoundCloud, and how to embed content from Facebook to Plone.
Screenshot on the right dislays how can a page with different embedly-converted content look in Plone 4. collective.embedly works in Plone 4.
Give it a try!
collective.embedly is compatible with Plone 4. It is distributed as a Python egg and can easily be installed into your buildout as other packages for Plone.
Visit the following pages to find more information about collective.embedly:
Document Actions